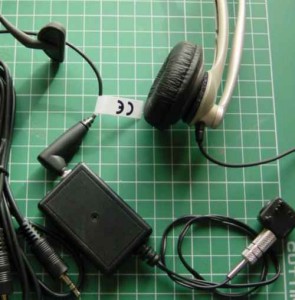 Here is an example of a simple electronic project. The brief was to develop a practical and convenient recording adapter for use with cell phones.
Culver Consultancy was responsible for the electronic design, and construction of prototypes.
The result, shown above, is a compact lightweight unit which connects a suitable pocket recorder to the phone via a hands-free kit. The matchbox-sized electronics box contains a battery powered AGC amplifier, mixer and filter. No external controls are necessary, as the electronics is switched on automatically when a call is made. The unit is powered by a user-replaceable coin cell, which lasts many months.
The result is a pocket sized adapter which minimises the inconvenience of recording calls:
small and light
AGC ensures consistent recording, with both sides of the conversation at same volume level
no power switch or controls – fully automatic operation
works with a wide range of cell phones