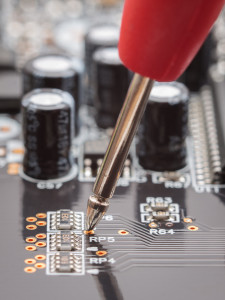 Adaptable and versatile, with the resources to handle most software development in house, we can work as part of your team, or independently.
We have the facilities for hardware development and, if required, have reliable professional partners on hand to assist with specialist services.
We can:
Build prototypes and small batches of electronic assemblies
Assist with a specific problem
Offer help and advice
Provide on-going support and maintenance
Our Services include:

Software/Firmware development
Maintenance of Legacy Hardware & Software
Electronic Product Development
Hardware Design

for Telecomms, Instrumentation, Industrial Control, & Consumer market segments.

Embedded Systems
Our software powers a wide range of equipment providing solid, reliable service around the world.
From systems as small as a pump controller, to multi-channel data recording systems, we can help with projects large and small.
Hardware
We have specialist skills in interfacing to many microprocessors, and can help when making decisions involving the trade-offs between hardware and software.
We also have wide experience with precision analogue measurement for instrumentation and can handle mixed signal designs.

PC Software
We can write bespoke software for specialist applications including data logging and control of specialist equipment.
In situations where off-the-shelf packages are inflexible or limiting, we can provide full-featured, modern Windows™ applications.

From C & Forth – to PC & VB
We specialise in Forth and C, but also have wide assembly language experience.
We can produce PC applications in VB.NET, and have legacy skills with VB.

Experience
We have experience writing code and interfacing to a number of processors, including:
PIC families: PIC12xx, PIC16xx, PIC18xx, PIC24xx, dsPIC
ARM Microcontrollers from NXP/Philips, ST, Atmel etc.
68000 series
8051 family
x86 (e.g. 8086, 80386 etc.)
H8 532
Z80 family
6502 6509
Migration from Legacy Triangle CPU Boards (e.g. TDS9092 and TDS2020)
Our broad experience makes it easy for us to handle processors not listed.
Intellectual Property
Unlike many of our competitors, our prices normally include providing source code and other design information.
There is no lock-in to tie you to us for ongoing maintenance and you will not be obliged to buy product through us. You can manufacture as you see fit, with no royalties to pay.
Talk to us
We take pride in our service and a personal interest in doing every job well.
Culver Consultancy is committed to providing appropriate solutions, on time, and we take ownership of problems and offer ongoing support should you need it.
There is no charge for an initial meeting to discuss your requirements.
We are happy to quote on a fixed-price basis where sufficient information is available.  When more flexibility is needed we offer services at a competitive hourly/daily rate.
Please feel free to get in touch – we would be pleased to discuss your requirements without obligation.
Just fill in our web form and we will get back to you – or click here for contact details.